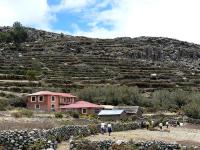 Amantani family home
Location
Amantaní Island (Lake Titicaca, Peru)
Description
Amantani is a beautiful island about an hour's boat ride from Puno with Inca ruins and very traditional local culture. You stay with a local family, and although accommodation is basic (no hot water), it does give you a fascinating insight into island life.
Activities
On your way to Amantani you usually stop and visit the floating reed islands of Uros, and on the way back stop at Taquile, another beautiful island with its stone arches and traditional weaving community. On Amantani there are Inca ruins that you can hike to for sunset, and the village traditionally welcomes its guests with an evening dance.
Accommodation
Basic, staying with a local family in their home. The toilet would be outside.
Our comments
Not for everyone, but a truly unique and unforgettable experience.
Client comments and reviews
Here we had a very good guide who had been born and brought up in Puno, who knew the islands like the back of his hand and also some of its key people. He was invaluable in being able to communicate with the home-stay family on Amantani, speaking both Spanish and Quechua. We enjoyed this visit as well as the Uros islands beforehand and Taquile island the following day. Obviously, there are some aspects of this trip which are commercial and touristy but that aside, it was a beautiful lake to visit and very interesting. - GC (September 2016)
Our stay was very interesting and the people were extremely friendly and helpful. It was definitely worth staying but I was glad it was for only one night. The only downside were the boat conditions to the island, which were quite cramped. - JM (November 2014)
The trip to Amantani was one of the highlights of our holiday, the whole experience was wonderful. Our host family were lovely and despite being so poor the beds were clean and warm and they made us so welcome. Taquile the next day was good too. - SH (June 2013)