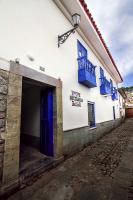 El Retablo
Location
Historic centre (Cusco, Peru)
Description
A boutique hotel three blocks from the Plaza de Armas in a converted historic building. This bright and airy hotel combines comfort with hand-painted works from local artisans. There is a garden patio and courtyard where breakfast is served.
Accommodation
Each of the seventeen rooms has been individually designed with handwoven tapestries and Andean folk art.
Our comments
Owned by Mountain Lodges of Peru.