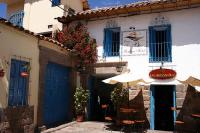 Casa San Blas
Location
San Blas (Cusco, Peru)
Description
A friendly little hotel in the narrow cobbled streets of San Blas, with views to the cathedral from the top floor. They have their own restaurant (La Cava) with about 6 tables, also a bar/reception with internet.
Accommodation
Standard rooms have no views, all have textile themes, TV, telephone and safe. The more expensive rooms (with kitchenettes) on the 3rd floor have lovely views. One master suite with kitchen, sitting room and bedroom, and a little shuttered window overlooking the street.
Our comments
Lovely, if you can get a room!
Client comments and reviews
A lovely hotel with extremely helpful staff. - JM (November 2014)
Casa San Blas was a lovely hotel. We were made very welcome and it was in a good location. - SH (June 2013)
One of our favourite hotels was Boutique Hotel Casa San Blas for their friendliness e.g. there was a bottle of local champagne in our room on arrival and they kept leaving chocolates on our pillow at night and one night we found hot water bottles in our bed! - SG&RC (August 2009)
We stayed in the same hotel - infact the same room - that we stayed in the night before we left for the trek. A lovely small boutique hotel right in the heart of Cusco and with spectacular views over the city and the surrounding hills. - TC (June 2009)
Casa San Blas in Cusco was another great hotel and our room had fantastic views over the city. We did some walking and had an excellent tour round the Inca museum by one of the very enthusiastic local students who really brought it to life. Thoroughly recommended otherwise we?d just have been looking at lots of pots. We also had a great night at the Fallen Angel ? excellent steak and cocktails. - AT (August 2008)
The staff at Casa San Blas, Cusco were superb.  The suite was comfortable and the hotel well situated. - CM (June 2008)
Our favourite of the trip; excellent position, views, room and very good staff. Good and well-priced bistro food; limited breakfast. - HH (March 2008)
This hotel was probably our favourite. The rooms were wonderful, lovely to lay in bed and look out over Cusco at night! We ate here and at other places in Cusco and food always good, although breakfast was not very well organised. The staff were particularly helpful, Elizabeth at reception especially so - printing off our passport copies and generally being delightful. - MW (October 2007)
The Casa San Blas in Cusco was very comfortable and homely. It was a great place to use as a base for our trip and every time we came back after a trip it was like coming back home. In particular the front desk staff were excellent, providing great restaurant recommendations and helping us to really feel like we were at home. - VN (July 2007)