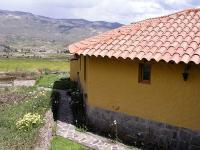 La Casa de Mamayacchi
Location
Colca Valley (The Colca Valley, Peru)
Description
A friendly, traditional hotel with good views and a pretty garden. The hotel is small, full of character and colour and ideal for those on a budget. There is a restaurant, small sitting area and hammocks in the garden.
Activities
Board games and mountain bikes for rent.
Accommodation
Rooms are clean and comfortable with en-suite facilities.
Client comments and reviews
Very nice rooms - although the heating was a bit bizarre. We left it on the first night because it seemed cold but had it turned off next night and weren't cold at all. The food here was excellent and plenty of it. We did a lot of walking around the area and enjoyed it all. - MW (October 2007)