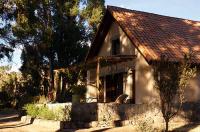 Las Casitas del Colca
Location
Colca Valley (The Colca Valley, Peru)
Description
A very comfortable property that is situated in a fertile landscape surrounded by pre-Inca agricultural terraces with wonderful views down the Colca valley. It has an impressive vegetable garden, swimming pool, spa, library and restaurant.
Activities
Walking trails, star gazing with their telescope, visit the Cruz del Condor, riding, visit their farm, fishing, painting and cookery classes
Accommodation
The 20 pretty casitas are clustered between cactus and peach trees. All rooms are tastefully decorated, with an indoor and outdoor shower, a bathtub, a fireplace and a private plunge pool.
Our comments
Originally Parador del Colca. All meals and excursions are included during your stay
Client comments and reviews
We are at the Parador del Colca and it is a wonderful place, so peaceful and quiet. I confess after the last few days I was exhausted and slept late while Peter got up to see the condors. Caesar the manager is so welcoming and friendly and gave me breakfast at 10.30 after I had showered, despite the service ending at 9.00. Very kind! - SS (August 2006)