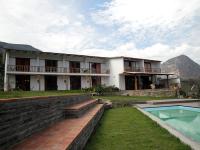 Gocta Andes Lodge
Location
Gocta (Chachapoyas, Peru)
Description
A simple but comfortable lodge on the edge of Cocachimba village with a stunning view of Gocta Falls in the distance. The lodge serves hearty food and there is a small pool to relax in after a long day of exploring the area.
Activities
There is a fantastic hike to the Falls from Cocachimba. All other sites in the area are a couple of hours drive away but all journeys follow beautiful routes with wonderful views.
Accommodation
There are two master suites and eight standard rooms. The master suites are extremely large with private terrace.
Client comments and reviews
A bit 'fawlty towers' but rather fun, I enjoyed my stay here and the view of the Gocta Falls is wonderful. Our room was basic but large, clean and quite comfortable with a fabulous view and excellent shower. There?s a good-sized outdoor pool, which was bracing but very clean and with lots of good comfortable seating around it. The place, however, seems to be run by three members of staff who run around like headless chickens and meal times were particularly fraught! However, the staff were cheerful and it was the cheerfulness of the place that was key to our enjoyment. - ML (September 2015)