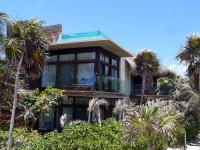 be Tulum
Location
Tulum (The Riviera Maya, Mexico)
Description
A design hotel with a drop away swimming pool, bar, restaurant and modern facilities, set amongst swaying palm trees on a lovely white-sand beach.
Activities
Tulum is a good area for snorkelling and for exploring the small coastal Maya site of Tulum, and the larger inland site of Cobá. Further afield the Si'an Kaan reserve can also be visited.
Accommodation
The 64 rooms have a rustic/minimalistic style, are tastefully decorated with attention to detail and equipped with air-conditioning and Wi-Fi internet connection. Rooms are on two floors, the ground floor rooms have a small private plunge pool and terrace and the first floor rooms have a Jacuzzi (within the bedroom) and a small balcony. The rooms are set amongst the palm trees (Jungle rooms being furthest from the ocean). The Ocean Front rooms have an ocean facing balcony and share a rooftop terrace with pool.
Our comments
The hotel offers honeymoon packages with room upgrade (subject to availability) and does not accept children under 18.
Client comments and reviews
I have to admit that when I arrived in BeTulum I was a little disappointed as I imagined it to be more upmarket and more like a resort. But having said that, it was so relaxing with beautiful white sand and turquoise water. You have your feel in white sand all the time, even when dining and staff were lovely and so helpful. - SW (October 2012)
Tulum was the perfect place to end our holiday for a couple of days of indulgence and relaxation. be Tulum is a real gem. - BW (February 2011)
Be Tulum was the best of the lot really, the rooms were of a really high standard, decked out with hardwood floors and a shower wet room in stone. The restaurant there was really good, quite a small menu but everything on it was lovely. Quite quiet being a long way along the beach so you had to get a taxi to a couple of the local restaurants but reception would sort one out for you no problem. Really good beach, idyllic really, white sand and crystal water. - DG (November 2010)
This hotel was awesome! It was very special. The food and drink was very pricey but for one week it was ok. We saw turtles laying their eggs on the beach which was pretty special and the staff really do make a massive effort. - ROH&MG (July 2010)