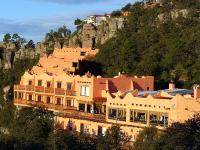 Hotel Mirador Barrancas del Cobre
Location
Posada Barrancas (The Copper Canyon, Mexico)
Description
This simple but extensive hotel on the edge of the rock offers splendid views over the peaks of the canyon.
Activities
Guests can walk out directly onto the surrounding rock to viewing points or clamber down to see the cave houses of the Tarahumara people hidden below. The Pacifico-Chihuahua train line runs just 10 minutes away by car.
Accommodation
All rooms have terrace directly facing the vast expanse of green. There are dining facilities for meals, a bar (with happy hour and early evening entertainment) and a small souvenir shop.
Our comments
A wonderful spot for relaxing or walking along the rim of the canyon amongst the pine trees. More serious hikes can be done down into the canyon, alternatively try the zip line or cable car for amazing views.
Client comments and reviews
Fantastic location but food was disappointing - rather institutionalised with no choice. - DC (February 2014)