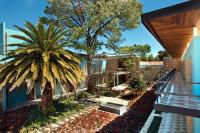 Hotel Bo
Location
San Cristóbal de las Casas (San Cristóbal de las Casas, Mexico)
Description
A chic, boutique hotel in the centre of town. The very modern design draws inspiration from the four elements, particularly water, which is found throughout the property. Rooms are very comfortable and the vibrant, warm colours traditionally linked with Mexico run through the interior and gardens. The restaurant is excellent.
Accommodation
There are 20 rooms in total: 17 deluxe rooms, and 3 suites - the Garden suite, Vin suite and Ik suite. The Vin suite is split over two floors with a private rooftop terrace.
Our comments
A wonderful, unique property.