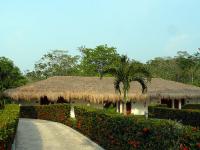 Villa Mercedes Palenque
Location
Near Palenque ruins (Palenque, Mexico)
Description
A resort style hotel, set in tropical gardens with two pools, a restaurant and small spa, 3km from Palenque ruins.
Activities
Visit the spectacular ruins of Palenque. A long, but full day excursion to Bonampak and Yachilan (on the Guatemala border) also recommended.
Accommodation
The 90 rooms are comfortable and spacious in small blocks distributed throughout the grounds, all with a terrace and hammock.