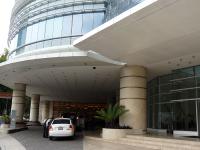 St. Regis
Location
Reforma (Mexico City, Mexico)
Description
Within a modern, stylish tower block overlooking Reforma, the hotel has wonderful views and smart public rooms. A comprehensive spa with pool and gym is on floors 15 and 16. The bar extends onto an outside terrace overlooking the Diana monument and every Wednesday afternoon guests are invited to meet for champagne, continuing the tradition begun by Nancy Astor in the original St. Regis hotel in New York in the early 1900s.
Accommodation
Bedrooms are very spacious and extremely comfortable. Butler service is 24 hour and very attentive. Tea and biscuits are available free of charge on demand, and fresh fruit and home made chocolates appear in the room each day.
Our comments
A good luxury choice in the centre of the city.