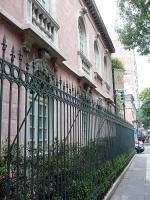 La Casona
Location
Colonia Roma (Mexico City, Mexico)
Description
A beautiful colonial building in a quiet area of town.
Activities
There is a small restaurant, small business centre and rooftop terrace.
Accommodation
The 29 rooms are comfortably furnished and individually decorated.
Our comments
A very comfortable hotel in a quiet area of town and a great base for visiting the city.