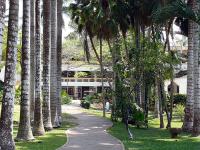 Mayaland Lodge and Mayaland Hotel
Location
Chichén-Itzá (Chichén-Itzá, Mexico)
Description
The Mayaland Lodge is set in 100 acres of landscaped gardens a few minutes walk from the main entrance to the archaeological site with 3 swimming pools, a main restaurant and also a BBQ area for lunch. The hotel is within the grounds of the lodge and they share the same reception and general facilities.
Accommodation
The lodge bungalows are spacious and set throughout the gardens with 3 rooms in each, all with a terrace and hammock. They are built in a traditional Mayan style with wood, stone, native marble and thatch, are decorated with the work of local artisans and are well equipped. The rooms in the hotel are comfortable enough and fine for those on a budget.


Our comments
In a perfect position for visiting Chichen Itza. Don't miss the wonderful view of the Observatory from the reception.