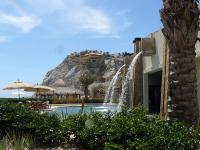 The Resort at Pedregal
Location
Los Cabos (Baja California, Mexico)
Description
This very modern-looking resort hotel is approached through a long tunnel cut into the rock underneath the mountain at Cabo San Lucas.
Activities
The gym is renowned and very popular with Californian visitors because of its high-tech equipment.
Accommodation
The upstairs suites have chimneys and a private jacuzzi on the terrace but not all rooms are ocean-view (some are in the garden). The spa is spectacular (you can even have sound therapy!), with romantic lighting in the treatment rooms and concrete turtles under the water in the salt water pool. The restaurant overlooks the sea and serves excellent food.
Our comments
Swimming in the sea is not advisable.