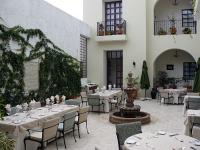 Guaycura Boutique Hotel and Spa
Location
Todos Santos (Baja California, Mexico)
Description
In a 19th century colonial mansion in the heart of the village, the hotel is small and offers very personal attention. The restaurant is in the courtyard in the centre of the building and the food is outstanding.
Activities
It is a short drive to the palm-fringed beach and the nearby cactus-covered headland offers wonderful views down the coast. There are several art galleries in the village and the hotel has examples of local artists' work on the walls.
Accommodation
Beautifully appointed and decorated, the rooms and suites are very comfortable, some with a four-poster bed and balcony and all with sitting area. The rooftop bar and terrrace has a small pool and several areas for relaxing over a drink.
Our comments
A very classy place to stay, in a lovely and interesting part of the peninsula.