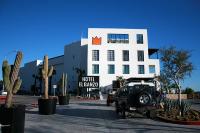 El Ganzo
Location
San Jose del Cabo (Baja California, Mexico)
Description
A modern hotel on the Marina just outside San Jose. It has it's own basement recording studio and visiting artists so has a very vibrant art scene.
Activities
The hotel is on the marina and has a boat to take you across to the beach club. It is safe to swim here as it is still within part of the harbour and is therefore protected from the open ocean. There are bikes you can hire to explore the area (there is a sculpture garden nearby).
Accommodation
69 rooms including a large suite and a very large suite (which really is ridiculously large).
Our comments
A quirky hotel ideal for those wanting something a bit different. Although not on the beach, there is the beach club and you can walk or cycle into the local town of San Jose.