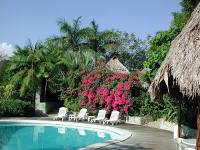 Lapa Rios
Location
Osa Peninsula (The Osa Peninsula, Costa Rica)
Description
A comfortable jungle lodge nestled in the rainforest on the tip of the Osa Peninsula, with fine views over the sea. There is a restaurant, and swimming pool and a variety of excursions are available (including riding) to see the abundance of wildlife in the surronding forests.
Accommodation
17 bamboo-huts cascading down the hill, and surrounded by the rainforest. Each has a terrace, private bathroom and outside shower.
Our comments
There are a number of steps at this property which might not be suitable for those with knee problems!
Client comments and reviews
Overall we thought Lapa Rios was fabulous and would go back. The staff were fantastic – friendly, responsive – could not have asked for more dedicated staff. Our room room (8) was fantastic - you could lie in bed with a view of the sea and bay, it was open and airy and the deck got enough sun. I assume the solar power water did as well – the shower was always hot. The 'in-house' activities were good. The bird walks (morning and afternoon) were very productive and we saw lots, however they take place along the main dusty road. I appreciate the ranchers and tourist outlets may not get along but it would be great if the bird walks could be in the same vicinity, off road. During the walk cars/motorbikes etc. drove by and there was a cloud of dust. It is a shame they can't agree to being allowed to walk round the edge of the fields, close to the tree line. We also thought the guides could be slightly better – and be encouraged to improve their knowledge. It can't be easy for them when people with a lot of knowledge arrive but not all the guides seem keen to look things up when they appeared not to be the norm. Anyway a very minor point. - JA (March 2017)
Lapa Rios was lovely and the birds on the morning and evening walks amazing. We loved our room too, once we had got over the 87 steps roughly the equivalent of 7 stories. Luckily we never forgot our key and we could have been in number 17 with 138. You did warn us! - SB (February 2016)
Lapa Rios, this was my highlight, a truly beautiful place, so much wildlife. Great and interesting complimentary tours for guests. Stunning rooms with epic views. Couldn't recommend it more. - FA (January 2012)
Excellent - and we are very glad that we chose to stay at this property. - DW (April 2008)
Lapos Rios was very good, great accommodation in bungalows and a very well designed eco lodge fitting brilliantly into the surroundings. Also enjoyed the treks and nature walks while there and food extremely good. - RP (March 2006)