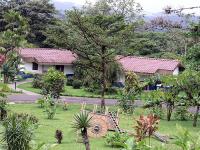 Villa Blanca
Location
San Ramón (The Central highlands, Costa Rica)
Description
A rustic but charming resort with large open grounds. The reception, bar, restaurant and games room are all in one spacious building.
Activities
Visiting the Los Angeles Cloud Reserve and the small town of San Ramón.

Accommodation
Rooms are in rustic cabins spread around the gardens, each with their own fireplace, rocking chairs and private bathroom. Larger rooms are available with a sitting area.

Client comments and reviews
A lovely hotel and room and we were very fortunate that it was pleasant when we arrived and could see some of the surrounding landscape. We took advantage and went on a short walk on our own and saw a snake and the humming birds in the garden. - MR (December 2015)
The hotel was lovely, and in beatiful grounds with excellent food but the guided walks were disappointing. There was one good trail on which we were allowed by ourselves and one could see all there was to see from there - especially a large number of hummingbirds which were beautiful. - AS (February 2009)
An excellent property with a lovely atmosphere and attentive staff. We were lucky enough to see a couple of Quetzals in the nearby reserve as well as many hummingbirds in the area around the hotel. - DW (April 2008)