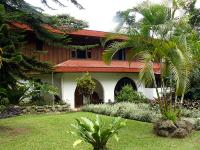 Rancho Naturalista
Location
Turrialba (The Central highlands, Costa Rica)
Description
An idyllic birding lodge nestled the hills of Turrialba with a view of the smoking volcano as its backdrop.
Activities
Though focused on bird-watching, the lodge also offers hiking, white-water rafting, zip-lining, canyoning and horse-riding.
Accommodation
14 warm and welcoming rooms are found spread out between the main lodge and individual casitas scattered throughout the garden.
Our comments
A warm and welcoming ranch fantastic for the keen birdwatcher and photographer.