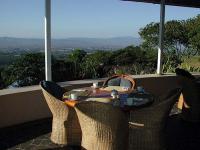 Hotel Xandari
Location
Alajuela (San JosÚ and surrounds, Costa Rica)
Description
A colourful hotel beside a coffee plantation, with stunning views of the valley and yet only half an hour from San José airport. There are two swimming pools and walks to five natural waterfalls. There is a spa, large sitting area and lovely gardens.
Activities
Poás volcano, San José or Lancaster Gardens are within easy reach.
Accommodation
All rooms have a small kitchenette, their own terrace with wonderful views and are decorated with unique artwork by the owner.
Client comments and reviews
Xandari Resort and Spa was first class but not unexpected as we had started our holiday there in 2011. - TM (February 2017)
Xandari was a great place to rest up after before and after our trip. - CS (February 2011)
We loved the Xandari hotel and in fact took colleagues for lunch there on our final Saturday in Costa Rica. Lovely quality and feel to it all. - JL (March 2010)
Hotel Xandari was absolutely fantastic. We just didn't have long enough to really take full advantage of such a beautiful place. We had a beautiful meal in an amazing situation. It was truly lovely up there. - S&MH (February 2010)
Our final stay in the fabulous Hotel Xandari, in the hills above San Jose, was a fitting end to a wonderful trip. Even here, we saw some new species of bird and enjoyed good food and pleasant hikes along the hillside trails. A visit to the waterfalls at the bottom of the hill is highly recommended. - DD (April 2009)
The hotel was delightful and the rooms beautifully designed and thoughtfully equipped. We had 3 nights there I think. We walked all the trails which were lovely, but after walking them twice it was enough. We had a trip to the volcano of Poas and it was well worth while, very dramatic and totally satisfactory. - CS (March 2009)
The Xandari was just the most perfect place for our first couple of days. Lovely gardens with good walks within them; peaceful and friendly; very comfortable rooms. - AS (February 2009)
We had a great end to our holiday at the Xandari Resort which we loved. Before leaving for the airport we had time to go on one of the hotel trails and have a swim afterwards. - JJ (November 2008)
The Xandari was a fabulous place to stay - RA (January 2006)