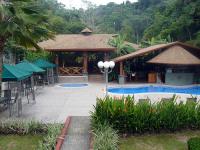 Hotel Playa Espadilla
Location
Manuel Antonio (Manuel Antonio and Uvita, Costa Rica)
Description
The hotel is within easy walking distance of the park, there is a small swimming pool and bar/restaurant. It does not offer the great ocean views that some hotels in the area do, but has everything you need and is good value for money.
Accommodation
16 comfortable rooms, all light and spacious with air-conditioning.
Our comments
An excellent choice for those on a budget.