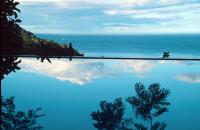 Makanda by the Sea
Location
Manuel Antonio (Manuel Antonio and Uvita, Costa Rica)
Description
A beautiful drop away pool and fantastic views. Makanda owns 13 hectares of lush hillside leading down to a small and effectively private beach. Breakfast is brought to your room each morning.
Activities
Visiting Manuel Antonio National Park.

Accommodation
A romantic hideaway with 11 studios and villas. Villas are larger and with a sitting area.

Client comments and reviews
Our villa was really beautiful, and the fact the hotel was adults only was really good. The pool area (including visits from the squirrel monkeys) was very nice. The trek to the beach was quite steep and difficult ? but all the hotels we saw in the area seemed the same. We also saw more wildlife from our room here than we saw altogether in San Ramon! Our shower wasn't very good and the breakfast is a total waste of time. - MR (December 2015)
In Manuel Antonio we resided in the Hotel Makanda, located on an elevated site over the Pacific Ocean and built into a clearing in the rainforest. We had a huge studio apartment with magnificent views directly over the forest to the ocean. Breakfast of your choice is delivered daily to your cabana. Temperatures ranged from 34 to 37C so exertion was a problem or at least that was the excuse we used for doing as little as possible! - DD (April 2009)
Our favourite hotel had to be Makanda, wow!!! Such a beautiful, beautiful place. - SJ (December 2005)