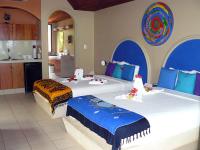 Alma del Pacifico
Location
Playa Esterillos Este (Manuel Antonio and Uvita, Costa Rica)
Description
30 minutes from Jacó. A beautifully private and isolated hotel right on Playa Esterillos. The hotel is relaxed with a lovely open restaurant. There are two pools and a spa.
Activities
Learn to surf, or arrange tours to Manuel Antonio to visit the park (1 hour away), or take the zip wire or canopy tour.
Accommodation
Rooms are brightly decorated, most with lovely views of the beach and a terrace. The bathrooms are part open-air.
Client comments and reviews
Esterillos beach was a fantatsic place for some rest and relaxation at the end of our wonderful holiday. - JW (March 2018)
Alma del Pacifico was simply excellent. Stunning size room (although we would not recommend the rooms not on the beachfront as although some are good size they have no outlook at all) and large terrace for viewing birds and people. Only criticism was the bathroom (massive) did not have a bath (would have been plenty of room for one) and the shower which looked very impressive did not work very well (apparently they all have the same problem according to other guests) so some scope to improve. The restaurant was lovely (but rubbish wine which was a surprise) and staff everywhere so friendly. The long beach is fantastic and so unspoilt. An excellent choice for some rest at the end and we would certainly want to go back there. - MF (January 2014)
This was our favourite hotel of the holiday in a superb setting and we felt that the choice of the beachfront villa was well worth the extra cost. - AM (March 2011)