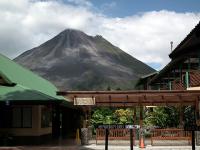 Arenal Observatory Lodge
Location
close to Arenal Volcano (Arenal and the North-east, Costa Rica)
Description
Originally a Smithsonian Institute research station, the hotel is set on a ridge opposite Arenal Volcano, offering fantastic views.
Activities
The hotel sits in a private nature reserve in the heart of one of Costa Rica's greenest areas, where volcanic grounds support primary and secondary rainforests. There is an excellent system of trails for exploring independently or with a guide.
Accommodation
Smithsonian rooms and Junior suites have large windows for fantastic views of the volcano and standard rooms have views to either Arenal Lake or Arenal Volcano. There is also a villa, ideal for families or groups of friends travelling together.
Our comments
A relatively simple property but unique in its location and therefore worth the extra effort to get there for the views and trails.
Client comments and reviews
We had a fantastic room which had great views of both the volcano and Lake Arenal and how we enjoyed sitting on our balcony soaking it up. On arrival, we had about 20 minutes there before the monsoon arrived but on the next day, we had brief, completely clear views of the summit. - GD (November 2018)
Arenal Observatory was a great place and well organised. The trail map we could have easily spent more time on. I was a bit concerned we were a captive audience for the restaurant but in fact it was also good and not punitively expensive. - JN (November 2016)
We didn't stay at the Observatory Lodge but went there for dinner one evening and took a taxi back to our hotel. We thought that the location was fantastic and great for viewing the volcano, although quite far from the main road. - DW (April 2008)