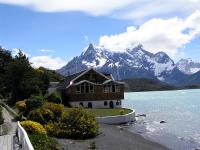 Hostería Pehoé
Location
Torres del Paine (central) (Torres del Paine, Chile)
Description
Reached over a footbridge on an island on Lake Pehoé, this simple lodging is in the centre of the national park. It has a good restaurant with stunning views of the Cuernos (Horns) del Paine.
Activities
A central base in the park, with easy access to Lago Grey or even for the walk to the Towers (best with hire car).
Accommodation
Rooms are very simple and do not have views over the lake.
Our comments
It is in arguably the best position in the whole of the park with wonderful views but the rooms and general service do let the hotel down. Best with a hire-car (or pre-organised tours) as you do need to travel to reach the trailheads.
When to go
October to April.
Client comments and reviews
Hostería Pehoe is wonderfully placed but not all that great, although not all that bad. - PW-A (February 2008)
A room was fine but quite basic. The food was inedible though, you need to get to the restaurant early or the food runs out and we ate at the refugio one day instead (cheeseburger and chips that were edible!) - BG (February 2008)