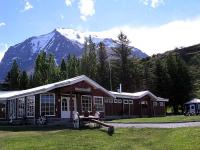 Hostería Las Torres
Location
Torres del Paine (central) (Torres del Paine, Chile)
Description
A comfortable hotel in the heart of the national park and the ideal base for hiking up to the famous Towers. There is a spa to ease those aches and pains, and an interesting interpetation centre where you can learn about the wildlife and landscape of the park.
Activities
There are various hiking and riding trails to explore, ranging in difficulty, and all excursions can easily be arranged locally.
Accommodation
Rooms are simple but comfortable with queen size beds and central heating.
Our comments
In an ideal position for the famous hike up to the Towers of Paine via the Ascencio valley.
Client comments and reviews
Hotel Las Torres was a bit bigger than I expected but was comfortable and well appointed, with stunning views. It was busy to begin with, but by the end of our 4 days was emptying rapidly because of Covid-19. The bar was super, and lots to enjoy on the 'free' list. The restaurant was also good, but menu a bit limited (not surprisingly) biut the salads were astonishing and all grown in their own organic gardens. We ate quite a bit in the bar and enjoyed everything.

The transfer from Punta Arenas was nice as we saw flamingos and rheas on the way. It included a stop at an estancia, with a tour of the old farmhouse and a lamb asado barbecue so that was great! A long road trip but the road was good and views wonderful, helped by the facty we had clear skies all day.

Excursions were all fabulous - across Grey Lake on the boat, the French Valley, and a shorter day trip to view the Torres. Gobs well and truly smacked! - AC (March 2020)
What a brilliant place Hotel Las Torres turned out to be. The whole concept of everything already included in the package gave total flexibility about how we spent our time, and I think I can say we hardly had a spare moment, and when we did (usually over a complimentary pisco sour in the very convivial bar) it was in the company of like-minded guests from pretty much all over the world. Our room was a good size, very comfortable, with beautiful views of the Torres, quiet and kept in an excellent state of tidiness and cleanliness - thanks to the numerous chambermaids and ancillary staff they seem to employ. The service was always smiling and polite from the bottom to the top of the staffing hierarchy; no-one seemed to suffer from an inferiority complex; everyone just wanted you to feel at home and have a good time. You could share a joke or an observation with the bar staff; in the restaurant you were greeted with enthusiasm, as though you'd been missed in the interim. Reception was always ready to help you with your most trivial wants and needs, and the girls who arranged your activity timetable were at pains to make sure they matched you up with the right kind of experience. The guides and the vaqueros are exceptional, knowledgeable and responsible professionals, who also know how to give people a fun time! - JB (February 2018)
It was great to be inside the National Park with all the facilities there. The rooms in Hosteria Las Torres were adequate and quite basic, but they have a great variety of activities to suit us all - particularly the walking and hiking. The lamb asado is recommended. - IH (January 2018)
The Hosteria del Torres has a the perfect location inside the park (cutting down travelling times) and the reception staff were excellent. The food varies from quite good to quite poor, but one learns to choose carefully. There are plenty of places to sit and gaze happily, the excursions were very well run (they have several with a range of difficulty) and the guides were terrific. The transport between Torres and El Calafate – arranged by the hotel – worked very well. I would go there again. - PJ (March 2017)
We enjoyed Hotel Las Torres in Torres del Paine which seems to be well run and although quite pricey we would recommend it. - RL (March 2017)
Hosteria Las Torres was great and Torres del Paine the highlight. The hotel was really excellent and we were able to walk to the base of Las Torres and also take their excursions on other days. - CT (January 2017)
Hosteria at Torres del Paine was a great hikers spot, a fabulous location, we all agreed the guides who took us out on the excursions were great, so enthusiastic, helpful and charming! - TS (January 2012)
Staff at the Hosteria were mostly good. Guide Connie was excellent. Food was extremely expensive, even in the bar, and was well below the standard we had enjoyed everywhere previously. The hike / horse ride to the base of the towers was a great experience as was a hike around Laguna Verde for wonderful views of the range all day. - TB (November 2010)
We found the proximity of the Hostería Las Torres for the trek to the base of the towers was perfect (and the trek was just as hard you suggested!!). - AP (November 2007)
Very comfortable, warm, and with good food and great wine, and yes, we did make it to the Towers the next day! - SR (December 2005)