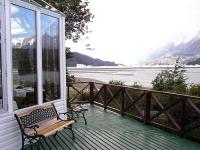 Hostería Lago Grey
Location
Torres del Paine (west) (Torres del Paine, Chile)
Description
At the western edge of the Torres del Paine national park, on the shores of Lago Grey with wonderful views across the lake to the Grey glacier where it descends from the southern ice cap. There is a large restaurant.
Activities
Good walking, riding, fishing, rafting, wildlife observation and the departure point for a boat trip on the Grey lake (when wind conditions permit).
Accommodation
Rooms, with private bathrooms and heating, are divided into blocks and connected by elevated walkways. Real windows that open (unusual for the park) with lovely views from most of the rooms and especially from the restaurant/bar.
Our comments
Regardless of where you stay the most awe-inspiring aspect of the Paine is the park itself, but Hostería Lago Grey is a step above the rest, clean and comfortable, with friendly staff. Is busy at lunchtime with visiting groups.
When to go
Open all year round but warmest from November - April.
Client comments and reviews
Hosteria Lago Grey was a good hotel but the standard rooms are inadequate if the weather is poor. Fortunately we had a large room. Also the menu is beef or fish every night!! They do not cater for guests staying more that one or two nights. We spoke to the manager and got a menu change for nights 3 and 4. They really need to get their act together. It did not affect us but don?t be late for breakfast because at 10 am it is all cleared!! - DO (November 2009)
The Hotel Lago Grey also had good views from the bar and dining room and was excellent for wildlife. Magellenic Woodpeckers, eagles and foxes all very close and easy to see without even leaving the bar - marvellous. - SL (November 2008)
Hosteria Lago Grey was pretty good it had great views over the glacier but was let down slightly by the food. - TM (March 2008)
Hosteria Lago Grey is very well sited and the lake trip and riding went well. - PW-A (February 2008)
Shown to our room and we were so lucky, we had THE best view of the icebergs. We wanted to start early for our trip back to the airport so it wasn't a rush and when we accordingly paid our bill the previous night the staff insisted they make up a packed lunch for us (at no extra cost) which was delivered to our room. Wasn't that a nice touch. - SR (December 2005)