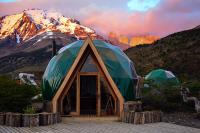 EcoCamp Patagonia
Location
Torres del Paine (central) (Torres del Paine, Chile)
Description
A sustainable lodge with dome accommodation in the heart of the national park. The domes are modelled on the ancient shelters of the region's native Kaweskar people and there are sleeping, reception, bar, restaurant and yoga domes.
Activities
The lodge offers a number of different stay packages - a 4 night wildlife safari, 5 night multisport adventure (hiking, riding, biking and kayaking) and two different W trek options.
Accommodation
There are 4 categories of domes: standard domes have a shared bathroom and no heating; superiors have a private bathroom and heater, and the suites are larger and have a private bathroom plus a woodburner. There are also loft suites which have a mezzanine level and so are more suited to families wanting to share (recommended minimum age is 6 years old).
Our comments
Book the suites for the extra space and wood burner.
When to go
Open September to May.