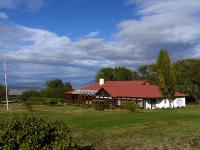 Estancia Cerro Guido
Location
Torres del Paine (east) (Torres del Paine, Chile)
Description
This traditional lodge is on a 90,000 hectare working sheep farm with 50,000 sheep about 45km from the Laguna Amarga (eastern) entrance to Torres del Paine national park. It has wonderful views of the Towers themselves.
Activities
Riding and excursions into the park are a key feature, as well as the day-to-day experiences of a Patagonian estancia (a tour around the estancia buildings is very interesting).
Accommodation
The lodge has only 12 rooms which are spacious and beautifully furnished. Some of the rooms have fireplaces but all are cosy and warm.
Our comments
A great option to witness life on a sheep farm, but in a very comfortable way!
Client comments and reviews
Cerro Guido was excellent, relaxed and fairly unique. The lovely guest house area had two very pleasant sitting rooms - space to relax and read or chat with others. The team were very helpful advising on excursions both guided and on our own and on our wildlife excursion and saw condors, eagles, Andean fox and more. - PC (November 2022)
The views of the mountains from the restaurant in Cerro Guido and on their horse riding excursions were superb! - AP (November 2007)