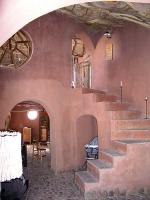 Hotel La Aldea
Location
San Pedro de Atacama (The Atacama desert, Chile)
Description
On the outskirts of town, la Aldea is a funky adobe hotel with plenty of character, a good size pool and an upstarirs terrace looking out towards the Volcano Licancabur.
Activities
The hotel can organise a number of activities from walking and riding to visits into the Atacama and each guest also has access to a free bicycle to get around town.
Accommodation
There are 9 simple rooms in total and two cabins, each with a capacity for 4 people.
Our comments
A good, rustic option though on the scruffy outskirts of town where you might feel uneasy walking back at night.