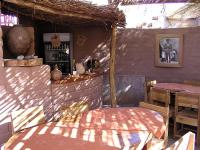 Hotel Kimal
Location
San Pedro de Atacama (The Atacama desert, Chile)
Description
Right on the main steet Caracoles, a stone's throw from the centre of town, the Kimal is a small, compact hotel with a plunge pool and jacuzzi split between the older, original rooms (to the left as you walk in) and the more modern, funky section (including a good restaurant) to the right.
Accommodation
There are around 19 rooms in total, including 11 of the orginal rooms set along narrow, adobe labrynthine paths, and 8 larger and more comfortable modern rooms with a lovely cactus roof.
Our comments
A strange blend of styles, hamstrung by the lack of space. There are few communal areas and offers little intimacy if running at capacity.