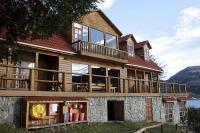 Terra Luna
Location
Lago General Carrera (Southern Carretera Austral, Chile)
Description
A rustic lodge just outside Puerto Guadal with spectacular views across Lake General Carrera to distant snowcapped mountains. Owned and run by the French mountaneer Philippe Reuter, Terra Luna is set in spacious grounds including 400m of lake shore and is open year round. The main lodge, at the heart of the complex, houses the bar, restaurant (come disco!), games room and lounge area and has wonderful photos from past climbing expeditions. Below the lodge on the lakeshore there is a small gym, jacuzzi, hot tub and sauna.
Activities
Terra Luna specialises in a wide range of adventure activities in and around the northern icefield including hiking, riding, kayaking, mountain biking and climbing. The lodge is famous for their Patagonia Jet boat, the only one of its kind in the area, which offers daily departures from Puerto Guadal across the lake to visit a number of glaciars such as Glaciar Leon, Soler and Nef.
Accommodation
The main lodge offers 4 small duplex apartments each with 2 rooms while a short walk away, the Mini Lodge San Valentin has a further 3 ensuite rooms overlooking the lake. There are a further 5 or 6 cabins in the grounds (including a treehouse!) which offer a mix of double and triple rooms.
Our comments
Wooden, rustic and quirky, full of nooks and crannies, Terra Luna offers an eclectic mix of accommodation and would appeal to groups of friends looking for an adventure based holiday.