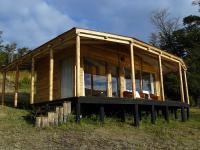 El Mirador de Guadal
Location
Lago General Carrera (Southern Carretera Austral, Chile)
Description
A stunning 6 hour drive south from Balmaceda, through the rugged terrain of northern Patagonia and you will reach this beautifully tranquil lodge. Just outside the village of Puerto Guadal and nestled on the shores of the crystal blue Lago General Carrera, the lodge is made up of a series of comfortable wooden cabins, overlooking the lake and surrounding mountains. Set slightly further back from the cabins is the restaurant, which serves a selection of local cuisine.
Activities
Owners Stefan and Carolina are more than happy to suggest activities to guests on arrival over a pisco sour. The lodge itself has a number of horses for those who want to ride, there are also various guided and unguided trails in the region, which are best arranged locally due to the famously unpredictable Patagonian weather.


Accommodation
There are 8 wooden cabins made from the local cypres and lenga wood, all of which have individual balconies and are spaced apart so guests don't feel overlooked. The small stoves inside the cabins mean the cooler Patagonian nights are not a problem.
Our comments
It is very rare that you find somewhere quite as unspoilt as Mirador de Guadal, which combined with Stefan and Carolina's hosting skills make for a magical stay.
When to go
October to April.
Client comments and reviews
El Mirador de Guadal was outstanding! Stefan and Carolina were wonderful hosts and the meals and pisco sours were fantastic. The hike from our cabin up the hill to the restaurant really did break us in for what was to come in Torres del Paine though! - PH (February 2015)