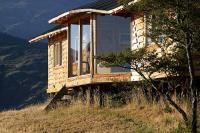 Mallin Colorado
Location
Lago General Carrera (Southern Carretera Austral, Chile)
Description
Deep in the heart of Chilean Patagonia on the Carretera Austral with views over Lago General Carrera. The nearest settlement (population 500) is Puerto Guadal, 20 minutes away. The nearest airport served by scheduled flights is at Balmaceda, 220km away (5 hours by road). The main lodge reception has a bar and cosy restaurant.
Activities
Fishing on the mighty Rio Baker, riding, hiking and admiring nature. It is also possible to charter a small plane for awesome views over the Patagonian Ice Cap.
Accommodation
Accommodation is in comfortable wooden cabins, all of which have wood-burning stoves, a sitting area, a dining area with kitchenette, and at least one bathroom. There are panoramic views through ceiling to floor windows.
Our comments
Mallín Colorado is a perfect destination for wilderness-seekers who prefer the independence of a self-contained cabin to a conventional hotel or lodge.
When to go
October to April.