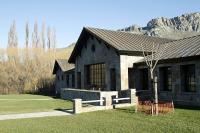 Lodge Chacabuco
Location
Puerto Bertrand to Cochrane (Southern Carretera Austral, Chile)
Description
This lodge is on what was once a a large estancia right at the heart of the Chacabuco valley and centrepiece of the Patagonia National Park. The main sitting area come dining room come bar is huge, very comfortable and designed around an impressive open fire. The décor is warm and inviting with the key themes of conservation and ecology visible throughout especially in the impressive library of books.
Accommodation
The rooms are modern, very comfortable and tastefully put together.
Our comments
The architectural design of the estancia is a statement in itself, modelled on the grandiose US park buildings that arose in the 1920's. Brainchild of Kris Tompkins, the estancia covers over 200,000 acres of Patagonia steppe and was purchased in 2004 by Conservación Patagonica to protect the endangered native Huemul deer. The valley has long been coveted by environmental groups as it forms a natural bridge between the National Reserves Jeinimeni (to the north) and Tamango to the south and showcases all the region's indigenous species (including guanacos, puma and condors).