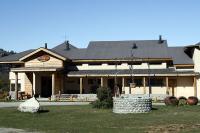 Hacienda Tres Lagos
Location
Lago General Carrera (Southern Carretera Austral, Chile)
Description
A comfortable resort-style hacienda just off the Carretera Austral nestled between lakes General Carrera, Bertrand and Negro in 1,500 hectares of private land. Modern, elegant and spacious, the lodge offers a higher level of facilities and services which include 2 restaurants (one a traditional Patagonian quincho), a games room, library, TV room, spa and sauna overlooking Lake Negro.
Activities
Soft adventure including walking, riding, fishing and boat trips on Lake General Carrera to the so-called marble caves. They even have their own canopy adventure.
Accommodation
There are two spacious suites on the second floor of the main lodge with wonderful panoramic views while outside there are five smaller 2-bedroom bungalows and 3 modern, annexes each housing four modern deluxe rooms.
Our comments
Good service, very comfortable though it does feel slightly out of synch with the wild, rugged environment.