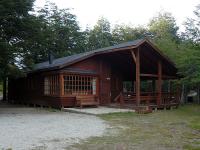 Green Baker Lodge
Location
Puerto Bertrand to Cochrane (Southern Carretera Austral, Chile)
Description
A comfortable lodge built on the banks of the Baker river, just south of Puerto Bertrand and between the villages of Puerto Guadal and Cochrane on the Carretera Austral. A variety of activities are available and there is also a hot tub overlooking the river. In a separate cabin is the restaurant, serving hearty local cuisine and offering a small selection of wines.
Activities
The lodge specialises in fly fishing (rainbow and brown trout) from early October to the beginning of May. Kayaking and rafting can be organised on the Baker river and boat trips to see the nearby marble caves. Riding and mountain biking are also available.
Accommodation
There are seven self-contained cabins; all varying in size and layout (some are built on two floors). All the cabins have private bathrooms (with hot water), kitchens, living rooms and a decking area at the front. Furniture in the cabins is made out of the native Chilean red wood, Rauli.