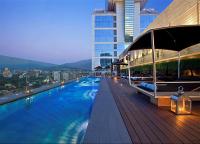 W
Location
Las Condes (Santiago, Chile)
Description
A modern, funky hotel in the business area of Santiago. With an extensive bar, good restaurant, concierge service and welcoming reception. There is a rooftop pool too.
Accommodation
196 rooms and suites. All rooms have a separate bath and shower with very comfortable bed. Extras include bathrobes, hairdryer, mini bar and ipod dock.
Our comments
The hotel is built above a conference centre and the actual reception is on the 4th floor.