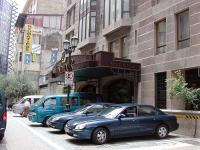 Hotel Fundador
Location
Santiago (Santiago, Chile)
Description
Centrally located hotel and good value for money. The hotel has been renovated and has modern soft furnishings and an indoor pool.
Accommodation
147 comfortable rooms split between two buildings.
Our comments
A standard, modern hotel with an ideal position for those wishing to stay at the heart of Santiago's busy centre. The flipside, not surprisingly, is that it can be noisy.
Client comments and reviews
The Hotel Fundador was very central but quiet as it was tucked away in a side street; it was slightly old-fashioned but very pleasant, with helpful staff in reception. - I&SR (January 2010)