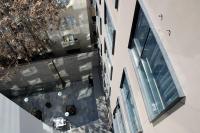 Cumbres Lastarria
Location
Lastarria (Santiago, Chile)
Description
A comfortable, modern hotel with a funky façade in the bohemian district of Lastarria, within walking distance of Cerro Santa Lucia and the main square. The Punto Ocho restaurant serves cuisine inspired by Chile's gastronomic traditions and there is also a wine bar. On the rooftop is a lovely outdoor pool with fantastic views.
Accommodation
There are 70 spacious rooms which either have a view to Lastarria street or to an internal open air courtyard.
Our comments
A good value option that is in the heart of the bohemian Lastarria neighbourhood, with many great restaurants to choose from.
Client comments and reviews
Really liked Cumbres Lastarria in Santiago, not perfect but a lovely hotel, beautiful rooms and in a great area. - HS (December 2017)