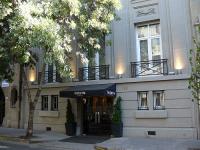 Casa Bueras Boutique Hotel
Location
Santiago (Santiago, Chile)
Description
A charming, small boutique hotel in the bohemian neighbourhood of Lastarria. Originally a family residence the 1927 building has been beautifully renovated, maintaining many original features. There is a restaurant, a bar, lovely terrace and small garden with an outdoor pool. Previously Lastarria Boutique Hotel.
Activities
Many of the city's museums and main highlights are within walking distance or only a short taxi ride away.
Accommodation
Rooms are stylish and comfortable with a blend of modern and traditional features, polished wooden floors, comfortable beds and good facilities. The Suites and Junior suites are lovely and spacious and recommended if available.
Our comments
Lovely quiet street and area and very helpful staff.
Client comments and reviews
The Lastarria boutique hotel was very well situated. We ate several times in local restaurants and it was a pleasant, quiet area, though the main Lastarria street was lively in the evenings. We were able to walk to most of the places we wanted to visit in Santiago. The hotel itself was comfortable, and a bit of an oasis with its pool and garden. I would recommend it very highly. - FN (March 2017)
Lastarria was much as expected. Very helpful and flexible staff. Great location for restaurants and bars etc. - DT (February 2015)