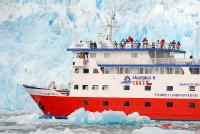 Skorpios II
Location
Puerto Montt (Puerto Varas and around, Chile)
Description
A 229 foot ship built in 1988 and completely remodeled and refurbished in 2012. Specifically designed and built to cope with the ice and conditions faced in Patagonia she operates a 6 day/5 night cruise out of Puerto Montt from mid September to the end of April. The 53 cabins are distributed across the 5 decks and there is a main dining room, lounge, two bars and good outdoor deck space. All meals, excursions and drinks are included and bilingual talks are given on board each day.
Departures
Saturday
Capacity
106
Activities
Cruise through interior channels and fjords and across the Corcovado Gulf, with possible sightings of blue and humpback whales. Highlights of the cruise include a visit to San Rafael Lagoon and glacier, Quitralco Fjord and the natural hot springs, walks in the rainforest and wildlife spotting opportunities (e.g. Magellanic penguins, dolphins, sea lions and cormorants). Also visit the fishing village of Puerto Aguirre and the towns of Quemchi and Dalcahue, on Chiloe Island.
Accommodation
The cabins are split across the 5 decks (Athos, Olympo, Pathenon, Acropolis and Atenas) with twin, double or king-sized beds and a private bathroom.
Our comments
Sister ship to Skorpios III who opertes a 4 day/3 nights cruise out of Puerto Natales visiting up to 14 glaciers (weather allowing).
When to go
October to March.
Client comments and reviews
The Skorpios II cruise on their Chonos Route was excellent highly recommended. It is worth having the up-graded cabin on the quiet Olympo deck with a double bed and windows opening onto an outside corridor, as we did. Even better a Junior Suite, as above but with more space. The cabins on lower decks looked fairly small, with single bunks head-to-head, and we expect they could be rather noisy and dark. The scenery is a major factor, but the crew and hospitality on the boat were very good. - DH (January 2018)