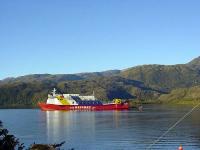 Navimag
Location
Puerto Montt (Puerto Varas and around, Chile)
Description
Two working ferries and cargo ships running year round between Puerto Montt and Puerto Natales. The facilites are basic though the scenery stunning as you navigate through the southern fjords. The journey lasts 3 nights (Puerto Montt to Puerto Natales, departing on Monday) or 4 in reverse, departing on Thursday. Built in 1978, the Evangelistas can hold 268 passengers. The Eden, built in 1983 has a maximum capacity of 150.
Accommodation
There are 7 types of cabin on the Evangelistas ferry and 5 on the Eden. We would always recommend either AAA, AA or A cabins which are the only cabins with private bathroom facilities.
Our comments
A rough and ready working ferry popular with backpackers and lorry drivers. Whilst Navimag does provide a very useful link in Carretera Austral itineraries the service has proved quite unreliable.
Please note that currently the ferry service can only be booked directly through the Navimag website.
When to go
November - March