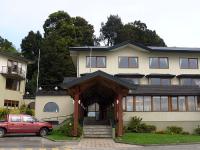 Hotel Bellavista
Location
Puerto Varas (Puerto Varas and around, Chile)
Description
On Puerto Varas's lake front road, one block from the centre. There are lovely views of Osorno volcano, a restaurant and sauna, but no pool.
Accommodation
All 70 rooms have a view to the lake and are perfectly comfortable.
Our comments
A friendly and good economic option if a touch dated. The Lake view rooms are a must!
Client comments and reviews
Hotel Bellavista stands up to its name. It is right on the lake front with magnificent views of the 2 volcanoes, and just a few moments walk to the town centre. - AC (March 2020)
The Hotel Bellavista was ideal with extremely helpful staff and a fantastic view across the lake. - TB (November 2010)
We had a superb view across the lake towards the Osorno volcano from our hotel room. - BH (February 2007)