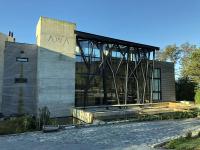 Hotel AWA
Location
Puerto Varas (Puerto Varas and around, Chile)
Description
A striking, contemporary hotel on the shores of Llanquihue lake, with stunning views of the Osorno volcano and just 20 minutes from Puerto Varas. The indoor swimming pool has panoramic views across the lake, and there is a restaurant and a spa.
Accommodation
There are sixteen rooms all with large en-suite bathrooms which have views to the lake. Rooms are bright and spacious, with floor-to-ceiling windows, and are decorated with materials from the region. All rooms have a television, fridge and fireplace.
Our comments
The hotel is 20 minutes closer to Osorno volcano and Petrohué falls than Puerto Varas and there is an onsite guide to help you plan any excursions.