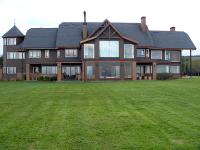 Casa Molino
Location
Puerto Varas (Puerto Varas and around, Chile)
Description
An elegant guesthouse just outside Puerto Varas right on the banks of Lake Llanquihue. Surrounded by farmlands with uncluttered views across the lake, Casa Molino is charming and spacious with warm, homely décor. It opens onto a large garden that leads right to the water's edge.
Accommodation
There are 11 modern comfortable rooms: 5 spacious suites with wonderful views and 6 smaller superior rooms, all but one with a view of the lake. Each has its own individual design.
Our comments
Tranquil, charming and excellent value for money, Casa Molino works well with a hire-car.
Client comments and reviews
We were stunned at the wonderful view from our room at the Casa Molino in the Lake District and were very lucky with the weather there. - BJ (January 2014)
Casa Molinos was quite posh but we liked it, and especially the upgrade to a ground-floor suite. The food was also very good. - TA (March 2011)
We were very pleased to have a four day break in one place and Casa Molino was the perfect base ? with a good restaurant and very pleasant and helpful staff. Originally a private house, all the rooms were different and ours had a huge picture window overlooking Lake Llanquihue with (on clear days) snow-capped volcanoes in the background. - I&SR (January 2010)