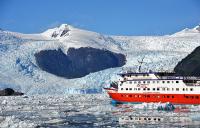 Skorpios III
Location
Puerto Natales (Puerto Natales, Chile)
Description
Sailings suspended until October 2023, when she will resume with a longer itinerary.
A 229 foot ship built in 1995 and completely remodeled and refurbished in 2012. Specifically designed and built to cope with the ice and conditions faced in Patagonia she operates a 4 day/3 night cruise out of Puerto Natales, departing twice a week from mid October to the end of March. The 45 cabins are distributed across the 5 decks and there is a main dining room, lounge, two bars and good outdoor deck space. All meals, excursions and drinks are included and bilingual talks are given on board each day.
Departures
Tuesday or Friday
Capacity
90
Activities
Cruise through intererior channels with highlights including visits/viewings of 14 glaciers (weather allowing), including Amalia and El Brujo, the two largest glaciers. During the navigation to Calvo Fjord, 5 glaciers are visited onboard an icebreaker and in Las Montañas Fjord, visit both Bernal and Alsina glaciers. During the excursion to the White Narrowness there will be the opportunity to observe the local flora and fauna of the area, with possible sightings of dolphins and cormorants, sea lions, condor and other bird species.
Accommodation
The spacious, well equipped cabins are split across the 5 decks (Athos, Olympo, Pathenon, Acropolis and Atenas) with queen or king-sized beds and all have a private bathroom.
Our comments
Sister ship to Skorpios II who operates a 6 day/5 night cruise out of Puerto Montt through the Chiliean fjords.
When to go
November to March.