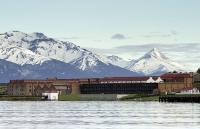 The Singular Patagonia
Location
Puerto Bories (Puerto Natales, Chile)
Description
Once a cold storage plant for Patagonia sheep exports, this historic building has been reborn as a luxury hotel whilst maintaining its original industrial architecture and heritage. There is a spa, sauna, and indoor/outdoor pool.
Activities
Guests have exclusive access to two private nature reserves, in addition to numerous excursion options including hiking, riding, kayaking and full day tours into the Torres del Paine National Park.
Accommodation
57 spacious rooms all with a small living area and a large bathroom with a separate shower and bath. There are views to snow-capped mountains and the Ultima Esperanza (Last Hope) sound.
Our comments
A thoroughly unique luxury property, which played an important role in the region's history. The hotel tastefully incorporates the property's heritage into the present, bringing history to life. The food is fantastic, views are stunning, the staff incredible.