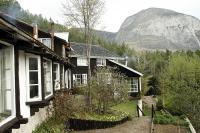 Tehuelche Patagonia Lodge (ex Mincho's Lodge)
Location
On the southern edge of Coyhaique (Northern Carretera Austral, Chile)
Description
A homely lodge within a pine plantation overlooking the Simpson river valley. The décor is warm and friendly, full of local character. There is a large dining room open to the public and a small, comfortable sitting room surrounded by books, pictures and family heirlooms.
Accommodation
There are 12 spacious rooms all with views, a number with their own wood burning stove.
Our comments
A rustic lodge, difficult to find as it is right on the edge of town, with warm, spacious rooms. Very homely if you don't mind the clutter of family knick-knacks!