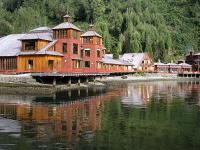 Puyuhuapi Lodge and Spa
Location
Carretera Austral (Northern Carretera Austral, Chile)
Description
This remote lodge is set within lush Patagonian vegetation on the banks of Dorita Bay deep within the southern fjords of Chile. Access is by sea or via the Carretera Austral (Southern Highway).
Departures
Saturday, Monday, Tuesday, Thursday
Activities
The hotel runs set 3, 4 and 5 night packages. Activities include trekking through the verdant rainforest, visits to the Queulat National Park, fly fishing, bike riding on the Carretera Austral or sailing in kayaks through the surrounding fjords.
Accommodation
32 very comfortable rooms, most with a balcony or terrace and view over the bay. Small bar, comfortable sitting room with an open fireplace, a number of naturally heated indoor and outdoor pools, spa and small shop. Excellent food served in the restaurant.
Our comments
Note the hotel no longer has a catamaran, so trips to the San Rafael glacier from the lodge are not possible.
Client comments and reviews
Puyuhuapi was beautiful albeit somewhat remote. As one of the boats was out of commission we sometimes spent some time waiting to cross over to the island but the food was good, the accommodation excellent and the walks outstanding so we thought it was great. - IP (February 2014)